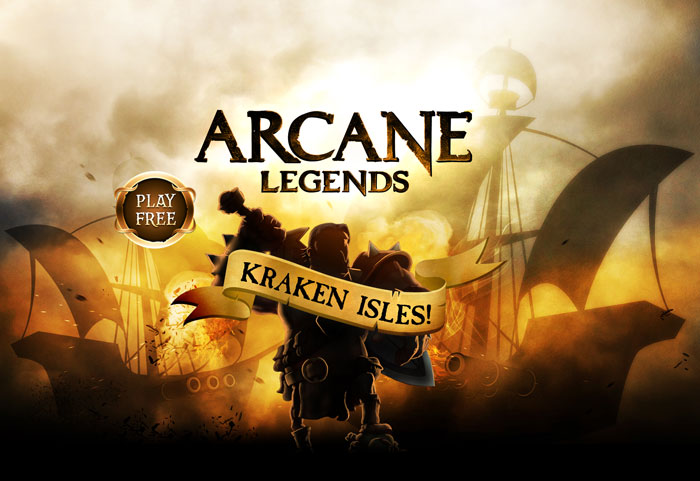 Arcane Legends Dives into Deep Sea Pirate Adventure
Kraken Isles Expansion Available on Desktop, iOS and Android Device
s
Ahoy me mateys! It is time to hop on deck of the Kraken Isles expansion to the fantasy co-op RPG Arcane Legends from Spacetime Studios. The expansion includes additional content, a new level cap raise and mythical, high-stakes adventure for iOS, Android and Chrome fans.
Players will experience swashbuckling adventure as they battle the bloodthirsty fish monster pirates, known as the Aegir. The warring factions of the Aegir have recently been unified by the cold-hearted Captain Bloodhammer, causing a threat to every lad and lassie from the Isles to mainland Arlor! The back story of the Rogue class, a daughter of the Kolga seafaring people, will also be revealed.
"The response to Arcane Legends and the first expansion, Dead City, has been insane with nearly 5 million downloads. We're sure the fans will love the pirate-themed content in the Kraken Isles and will bring even more players into the game," said Gary Gattis, CEO, Spacetime Studios.
Features Include:
Level cap raised 5 levels to 26
New Kraken Isles adventure areas
Travel by ship
Added pirate Aegir foes and bosses
Pirate themed armor and weapons to collect
New Mythic and Arcane rarity items - the most powerful ever!
Season 3 of the Leaderboards
Pets now available in Player vs. Player combat
Additional Achievements
New pets to collect, including the Toucan and Monkey
Arcane Legends can be downloaded at the
App Store
,
Google Play
or the
Chrome Web Store
.
For more details about Arcane Legends, please visit
http://www.arcanelegendsgame.com/