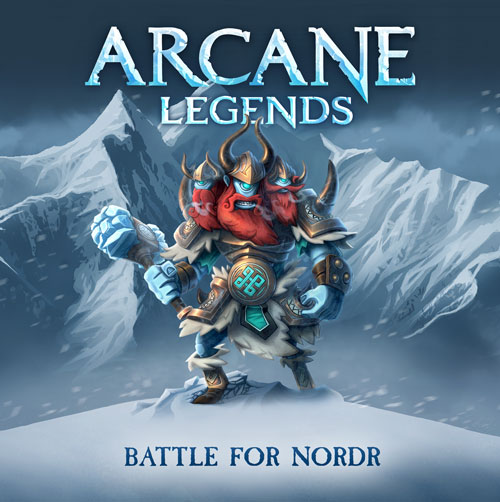 Battle For Nordr
The next expansion for Arcane Legends is coming in Late April!
Nordr, the frozen north, is the homeland of the Warrior and his ancestor, the legendary hero Uller. Uller and his companions Himingleva and Vili saved Arlor from a great evil 100 years ago. After discovering the defiled tomb of Himingleva as the source of an artifact that allowed Captain Bloodhammer to wreck havoc on the Kraken Isles, attention turns toward the north and Ullerís burial tomb, deep beneath the Stronghold of Nordr.
Legend goes that Gleipnir, an ancient device created to lock out a great evil, was shattered in to three pieces and each shard was granted to one of the three heroes. That way if the doorway to the ancient evil needed to be unlocked, it had to be a decision made by the three heroes together. That time is long since past, but the power of the three shards of Gleipnir has not waned.
Prepare to journey to Nordr and for the epic battle to be found there!
The Battle for Nordr Features:
Expands the level cap five levels to 31
New Nordr adventure areas to explore
New quests and content that reveal the story of Nordr, the Warrior homeland
An Arcane Warrior Weapon
Mythic rarity Chest Armor for all classes
New monsters to fight
New items and pets to collect
...and much more!
The recently released
Glacian the Ice Elemental pet
is an indication of what awaits in the frozen land of Nordr.
Over the coming weeks, we will reveal additional details of the Battle for Nordr expansion. Check back to the
Official Arcane Legends Announcement Forum
regularly to read updates!