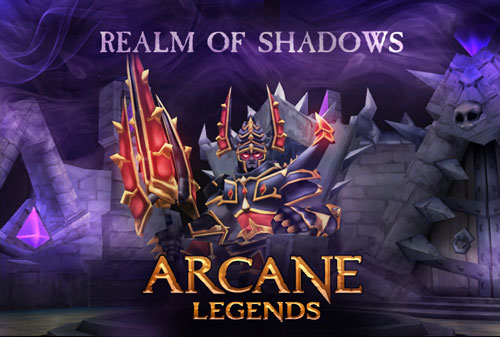 Light Up Arcane Legends in the Realm of Shadows Expansion
Available on Desktop, iOS and Android Devices
AUSTIN, Texas – Aug. 28, 2013 –The darkest and most challenging expansion yet is coming to Arcane Legends from Spacetime Games on Thursday, Aug. 29, 2013. Realm of Shadows will increase the character level cap, introduce new opponents to test your strength and add new gear to collect along your adventure.
In this expansion, players learn the backstory of the sorcerer's people and their homeland, Shuyal. Centuries ago the people of Shuyal were meddling with dark sorcery and unleashed a terrible evil that quickly covered their world in shadow. That shadow belonged to Inan'hesh, the devourer of worlds. Many of the Nott, the people of Shuyal, escaped via a portal to Arlor, the world of Arcane Legends, while a brave few stayed behind to seal the gateway shut.
Players will face terrible danger to enter the Realm of Shadows and try to save Shuyal, risking the shadow of Inan'hesh seeping in to Arlor.
Features Include:
• Increase your characters power; Level cap raised from 31 to 36
• Explore and save the land of Shuyal
• Defeat brawny bosses and fearsome foes
• Collect new loot, pets and gear including the Sorcerer's Arcane Weapon
• Conquer new quests and learn the story of the sorcerer's people
Arcane Legends: Realm of Shadows
can be accessed by completing the Nordr Gleipnir question and then venturing through the portal found in Stronghold.
Arcane Legends
can be downloaded at the
App Store
,
Google Play
or the
Chrome Web Store
.