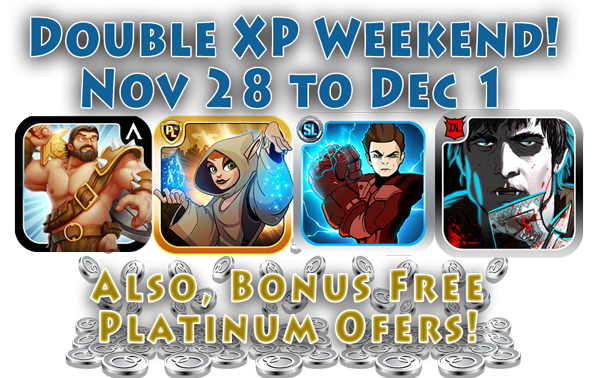 From Nov 28 to Dec 1 all Legends Games will have Double XP and Bonus Free Platinum Offers!
If you are looking to level up, or to try out a new game, there couldn't be a better time to play!
Follow the below links to play:
Arcane Legends
Pocket Legends
Star Legends
Dark Legends
If you are not familiar with Free Platinum Offers, these are easy ways to earn Platinum in your game. Review the different Free Platinum Offers from the offer wall in game and earn some Free Platinum. From Nov. 28 to Dec. 1 Free Platinum Offers will be paying out huge Platinum payouts!
-----------------------
Also, Battle Dragons and Battle Command!, the new 'Build 'n Battle' strategy games from Spacetime will also have bonus free offers this weekend! Try out a new game today!
Battle Dragons

Battle Command