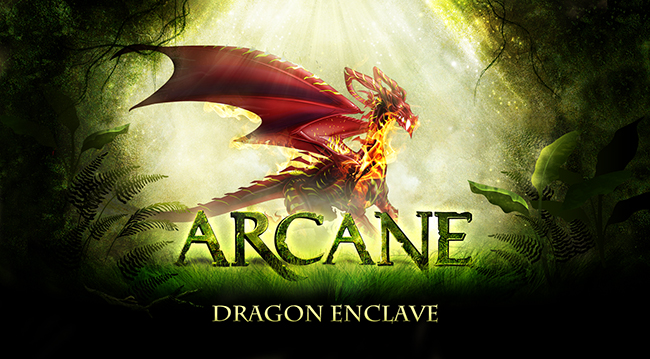 Spacetime Studios is announcing Arcane Legends fifth Expansion, the Dragon Enclave. Starting today, players can jump into a new campaign that takes you into the lair of the vicious dragon king, Lord Rendtail. With a new character level cap of 41, players can fight against new bosses, explore the realm of Arlor with new pets, including the brand new Komodo Dragon pet, and battle hordes of snarling dragon enemies. Those are just a few of the new features found within the Arcane Legends: Dragon Enclave, including:
Five New Dungeons
You'll arrive on the shores of the newly discovered island of Tindirin and venture high into the perils of Mount Rockhorn to face-off against the powerful Lord Rendtail.
New Daily Quests
You can venture across the lands of Arlor to collect loot or help defeat fearsome enemies in new ongoing daily quests.
New Weapons and Armor
Collect new sets of gear like Tribal Wear from the Tindirin natives and Conquistador Gear from the brave explorers that set foot on Tindirin for the first time.
New Collectible Currency: Dragkin Teeth
Dragkin teeth are a very rare boss drop. They are most valuable to the Tindirin natives and can be traded for special items and recipes.
Arcane Crafting
Players in the Dragon Enclave expansion can use the crafting system to forge an Arcane Ring, one of the most powerful items in all of Arcane Legends.
"The Spacetime Development Team had a lot of fun creating the Dragon Enclave and it shows", said Alex von Minden, Legends Producer. "The art, action and story come together for solid MMORPG experience, all delivered neatly to your mobile device. I'm especially proud of our final boss, the fearsome Lord Rendtail. It is a great boss fight with a unique spin that makes it unlike any other encounter we've done before."
Arcane Legends is the fourth title in the highly popular Legends franchise, which has generated over 250 million play sessions worldwide. Winner of Massively's Best Mobile MMO award for 2012 and 2013, Arcane Legends is set in the fantasy world of Arlor. Beset on all sides by evil forces, players must battle goblins, trolls, necromancers, and other foul creatures in their quest for glory. The game's innovative Companion System allows players to collect a myriad of powerful and mystical pets to use in combat. With their companion, players and friends can carve out their destiny as a deadly rogue, mystical sorcerer, or hulking warrior.
For more information on Arcane Legends or to download the game for free, visit
www.ArcaneLegendsGame.com
. Join the conversation by visiting the official
Community Forums
,
Facebook
,
Twitter
, and
YouTube
pages. For additional press assets and accolades, visit our Press page.