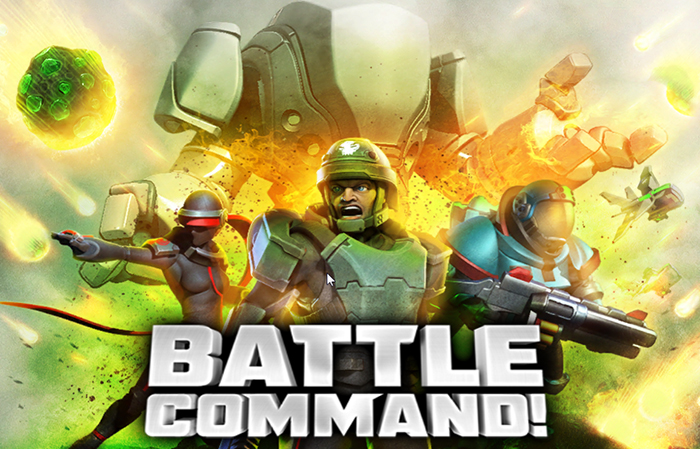 Austin, TX – August 20th, 2014 - A mysterious object suddenly flashes in the sky. A giant meteor breaks the atmosphere and hurtles towards your base! Your troops duck for cover as they fear the meteor's impact. The object explodes onto the ground next to your base and debris flies into the air. When the dust settles, you find that the meteorite's crater holds a mysterious new element that will completely revolutionize your battle strategy!
This is the basis of the massive new game update to Battle Command!, the Darium Update. The Darium Update brings an innovative new resource sharing system, an entirely new tier of troops, new buildings, new attacks, and more!
Players Level 4 and above will see a cut scene and discover a crater holding a new resource. They must build a research facility to unlock the secrets of this new resource. After research is complete, players will find that they will be able to produce specialized troops and weapons, but only through sharing resources (amber, diamonds, or rubies) with alliance mates. The more resources players share across their alliance, the more they'll be able to build and battle.
"We've developed a unique in-game economy fueled by social interaction that's never been done in other conventional build and battle games." says Producer, Greg Mueller, "This is the largest Game Update we've released for Battle Command! and we think players will love the new content."
The Battle Command! Darium Update Features:
•
New Resource Sharing System
– Players work with allies and share resources to create a new alien material known as Darium.
•
New Troops
– The Darium Grenadier, Darium General, and Flying Armada Airplane are a new tier of destructive force to be reckoned with.
•
New Buildings
– The Darium Research Lab, Resource Mining Facilities, Storage Buildings, and more, let players expand their base and provides greater base layout customization.
•
New Defenses
– The Darium Laser and Pulsar add a devastating new defensive attack that will annihilate any enemy that dares challenge your defensive prowess.
•
Balance Changes
– We're continuously listening to our community and improving upon our existing defensive and offensive units with new balance changes.
Battle Command! is the second in Spacetime Games' Battle franchise and the sixth title from the studio. Battle Command! is free to download and play with optional micro transactions and virtual currency to enhance the play experience. Join the conversation by visiting the official
Community Forums
,
Facebook
,
Twitter
, and
YouTube
pages. For additional press assets and accolades, visit our
Press
page.