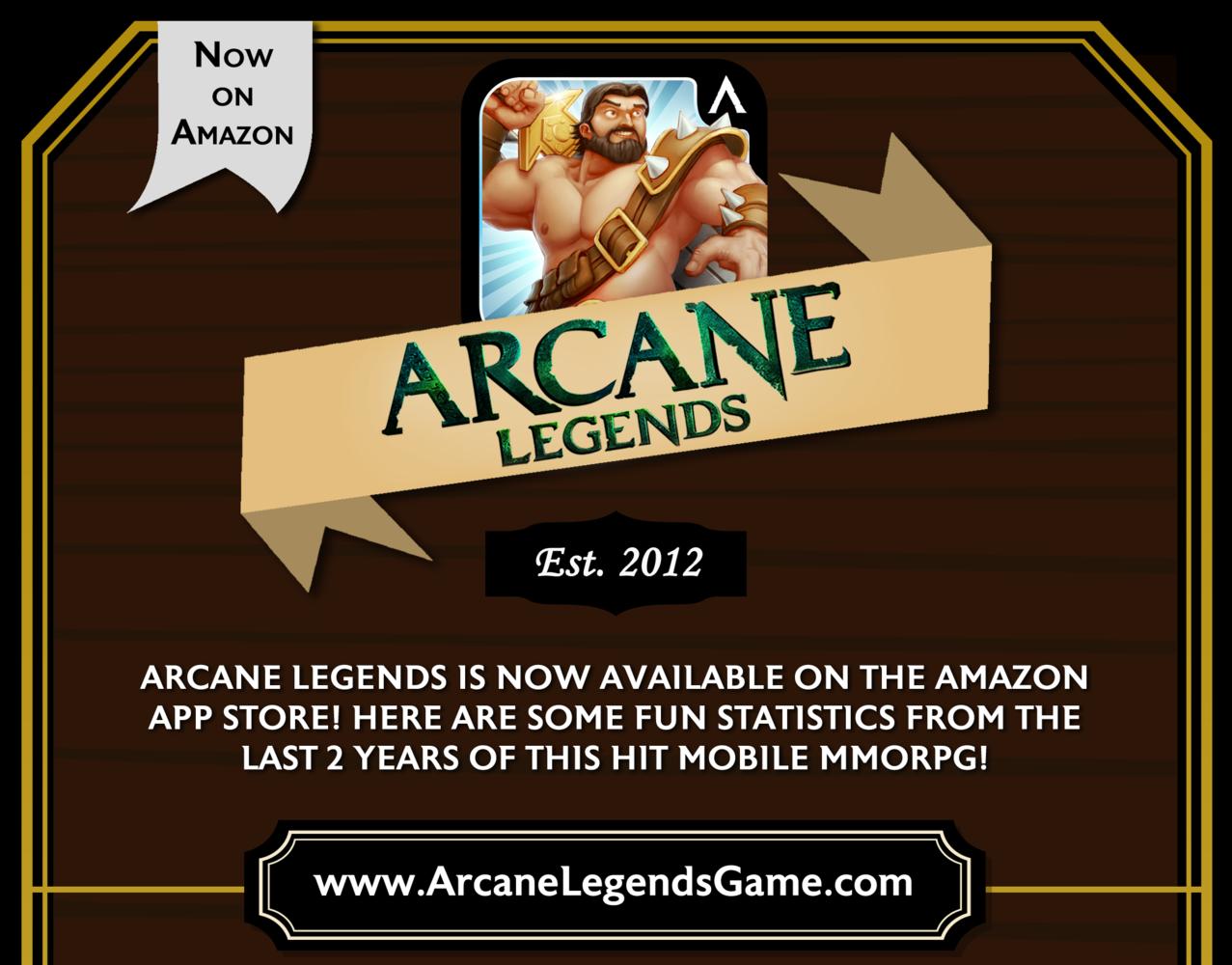 Austin TX – October 21, 2014 – Spacetime Studios, creators of the hit mobile MMORPG Arcane Legends, is happy to announce the game's expansion into the Amazon Appstore. To accompany the launch, Arcane Legends is releasing an infographic that highlights the game's success over the last two years.
According to the numbers, Arcane Legends players logged over 365 million play sessions and played for over 140 million hours. They've consumed over one billion potions and have an in-game gold economy of over 35 billion, which would place Arcane Legends within the United Nations' top 100 countries in terms of gross domestic product (GDP).
"Arcane Legends brings excitement to people every day and we're thrilled that our players have logged over 365 million play sessions," said CEO Gary Gattis. "As the infographic highlights, the game has been very successful in other app stores, and we're delighted to bring Arcane Legends to the Amazon platform."
In celebration of the Amazon Appstore launch, interested players who install the game and use the promo code "/Amazon" will receive an Amazonian Treasure Chest. Visit the
Arcane Legends Amazon App Store
listing for more information on how to redeem these exclusive new items.
Arcane Legends is the fourth title in the highly popular Legends franchise. Winner of Massively's Best Mobile MMO award for 2012 and 2013, Arcane Legends is set in the fantasy world of Arlor. Beset on all sides by evil forces, players must battle goblins, trolls, necromancers, and other foul creatures in their quest for glory. The game's innovative Companion System allows players to collect a myriad of powerful and mystical pets to use in combat. With their companion, players and friends can carve out their destiny as a deadly rogue, mystical sorcerer, or hulking warrior.
For more information on Arcane Legends or to download the game for free, visit
www.ArcaneLegendsGame.com
. Join the conversation by visiting the official
Community Forums
,
Facebook
,
Twitter
, and
YouTube
pages. For additional press assets and accolades, visit our
Press
page.