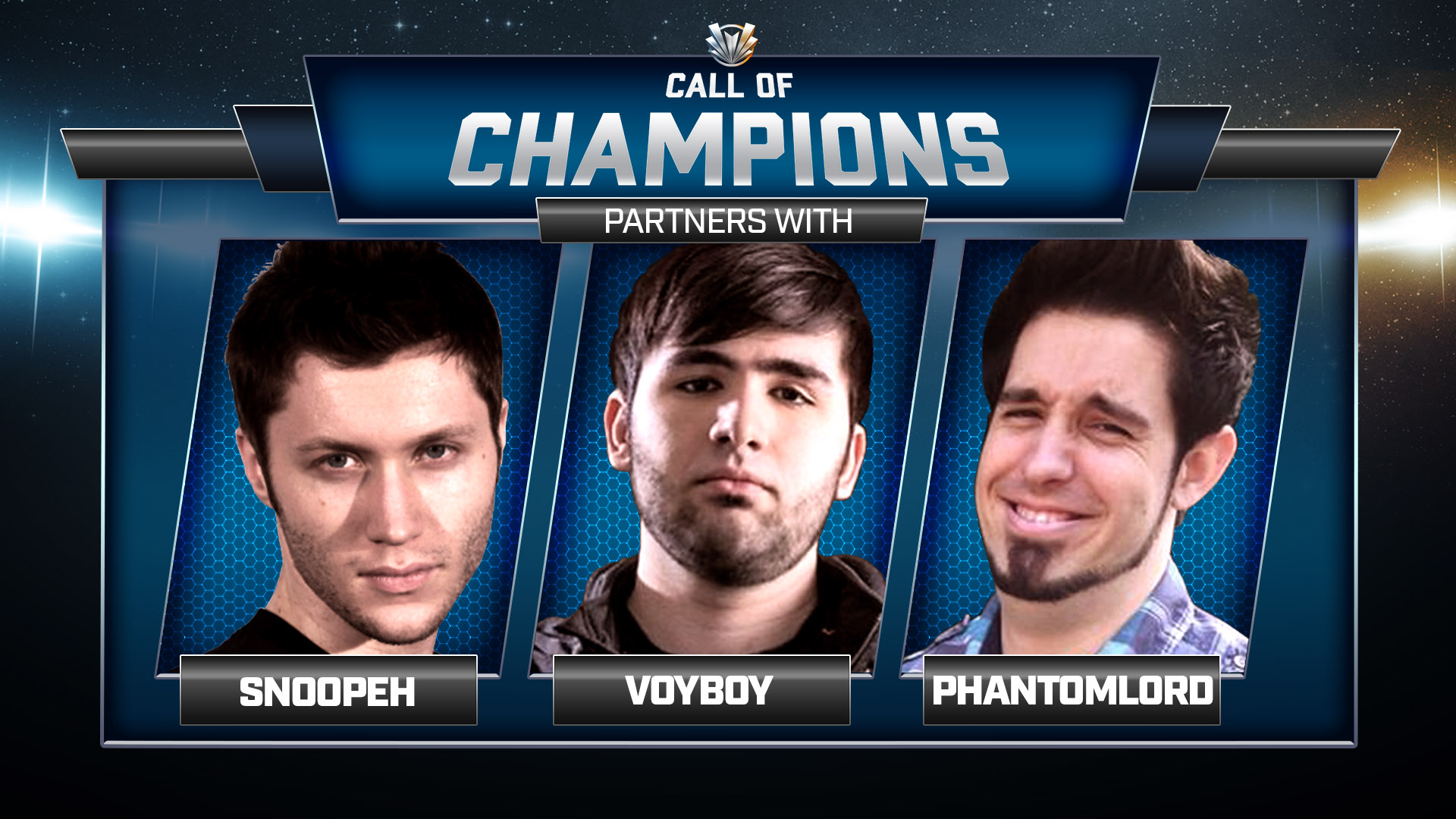 AUSTIN, Texas - April 15, 2015
- Spacetime Studios, a Texas-based independent mobile game developer and publisher, has partnered with notable
League of Legends
professional gamers James "PhantomL0rd" Varga, Joedat "Voyboy" Esfahani and Stephen "Snoopeh" Ellis to consult on the development of
Call of Champions.
Built from the ground up for mobile devices,
Call of Champions
is a multiplayer online battle arena (MOBA) game that tweaks and streamlines traditional game mechanics to encourage fast, strategic matches. The former Esports players will bring their unique backgrounds and competitive MOBA knowledge to assist in refining the
Call of Champions
gameplay experience
.
"James, Joedat and Stephen have helped level up competitive gaming and define what it means to be a pro gamer today," said Gary Gattis, CEO of Spacetime Studios. "Their extraordinary ability to understand MOBAs and how players interact with these games makes them the perfect partners to blaze new trails on the mobile platform alongside our
Call of Champions
development team."
The three professional gamers serve as independent consultants, having extensive experience in the MOBA genre and on the Esports circuit. James "PhantomL0rd" Varga began his professional gaming career with
Team Fortress Classic
,
Counterstrike
,
Quake3 Arena
, and
World of Warcraft
before immersing himself in the competitive
League of Legends
community where he co-founded the original V8 Esports team. Joedat "Voyboy" Esfahani is among the most accomplished and well-known
League of Legends
players in the world; he has represented teams such as Dignitas, Counter Logic Gaming, and Curse in tournaments as large as the World Championships. Stephen "Snoopeh" Ellis is a former professional
League of Legends
player who has competed with and against the best players in the world for more than four years.
Call of Champions
is a next-generation MOBA refined for mobile and designed for competition. Players will be able to control one of over twenty different Champions of five distinct classes in the arena, each equipped with their own unique playstyle and special abilities. All of the action is packed into a thrilling 5-minute match, enabling players to enjoy quick, competitive games with anyone, anywhere, anytime.
Call of Champions
features a robust social toolset, allowing players to recruit team members, plan matches, earn achievements, and even spectate live matches from their mobile devices.
"PhantomL0rd"
,
"Voyboy"
and
"Snoopeh"
will be the first players to participate in the
Call of Champions
Alpha Program. Spacetime Studios will open the Alpha to an elite audience of competitive gamers and innovators later this month. To stay up-to-date on the latest Alpha information, #AnswerTheCall by rating the game's Champions and sign up to receive exclusive information, visit
www.CallofChampions.com
.
Call of Champions
will be available in 2015 as a free download on the App Store for iPhone, iPad and iPod touch and on Google Play for Android devices.
About Spacetime Studios:
Spacetime Studios is an independent game development studio located in Austin, Texas. The company was founded by videogame veterans Cinco Barnes, Gary Gattis, Jake Rodgers and Anthony L. Sommers. In 2010, Spacetime released the world's first 3D real-time mobile MMO,
Pocket Legends
. The company continues to expand its content and technology to lead the mobile multiplayer market.
Spacetime Studios, the Spacetime Studios logo,
Call of Champions,
and all associated artwork and designs are trademarks or registered trademarks of Spacetime Studios, LLC. Apple, iPod touch, iPhone, and iPad are trademarks of Apple. Android is a trademark of Google, Inc.