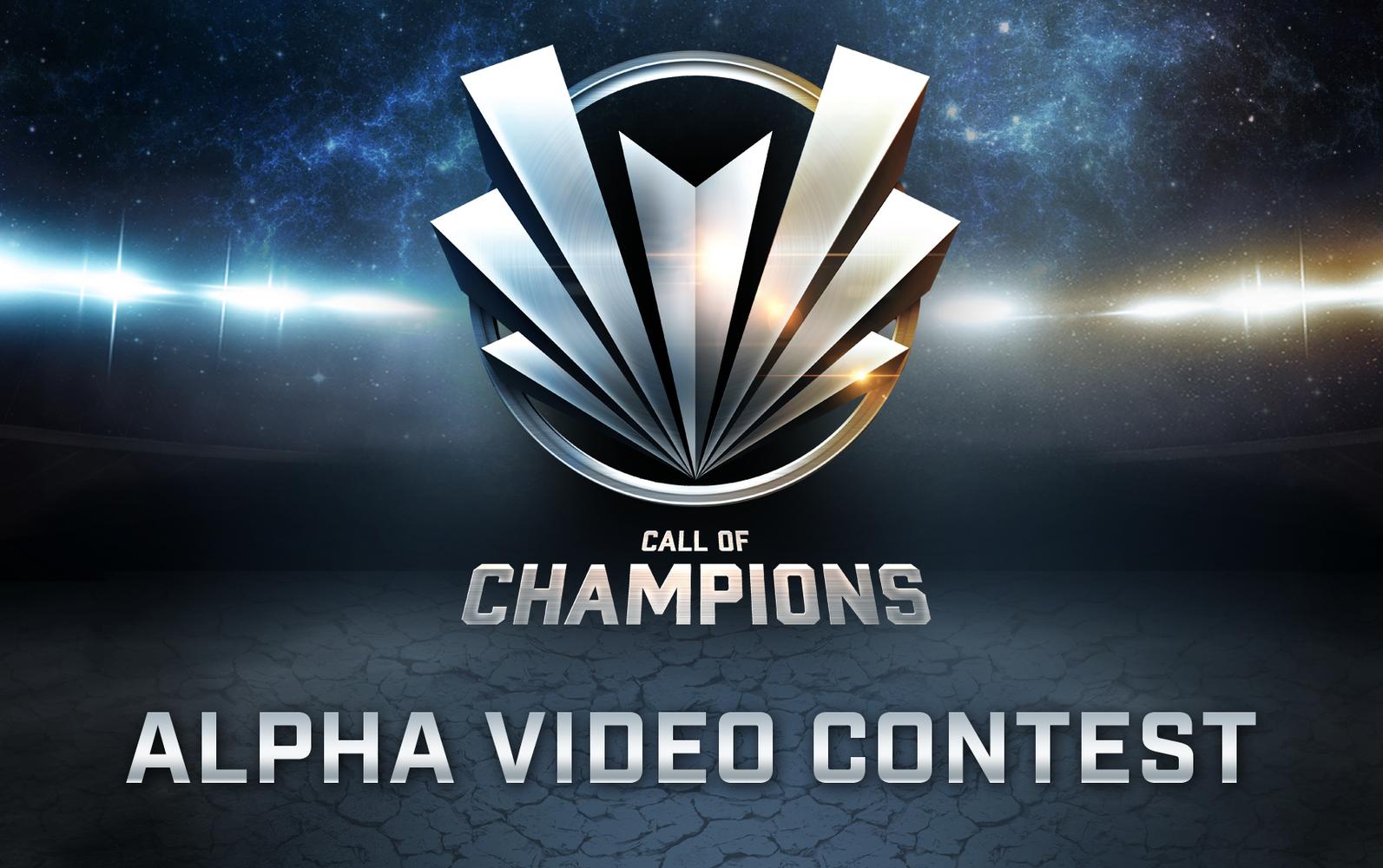 The Call of Champions Alpha Testers have given some incredibly valuable feedback so far. They interact directly with developers to shape the future of Call of Champions as it evolves into a final product that we'll reveal to the rest of the world. Tier 1 Alpha participants come from all walks of life: professional Esports players, celebrity Twitch Streamers, our first ever tournament winners from SXSW Gaming 2015, and more!
Now we're looking for who's next, active MOBA players and engaged members in the Spacetime community, to add to our Alpha Team and turn Call of Champions into an even more polished gameplay experience. To join, create a short video telling us why you want to be among the first to play Call of Champions. Competitive gaming is as much about viewing as it is about playing, so we're looking for awesome personalities!

How to Participate:

+ Create a 7-30 second video of yourself or use images to convey why you want to be among the first to play Call of Champions. Get creative! You aren't limited by any format or theme, so create something uniquely you that shows how you would contribute to our team. You can also
download a fan kit here
.
+ Publish your video to YouTube. Share it on Facebook, Twitter, or the
Spacetime Forums
with the hashtag AnswerTheCall.
+ Share your creation with your friends! The video with the most Likes, Retweets, etc. will become a fan-favorite candidate.
+ Entry period is from 4/29/2015 at 1:30pm CST to 5/13/2015 at 1:30pm CST.
+ Your video must comply with the Spacetime Studios forum rules and
Terms of Service
Judging:
There will be two phases of judging. First we will determine our fan-favorite candidates by community voting, then our development team will deliberate and hand-pick the winners.
Judging Phase 1:
There will be two phases of judging. First we will determine our fan-favorite candidates by community voting, then our development team will deliberate and hand-pick the winners.
Twitter:
Tweet a link to your video and hashtag #AnswerTheCall. Encourage your friends to retweet the video to vote or "Favorite" your tweet. Make sure each retweet contains both your @username and the #AnswerTheCall hashtag. One retweet and Favorite per user will count as a vote.
Facebook:
Start by "Liking" the Call of Champions facebook page. Post a link to your video on our wall with hashtag #AnswerTheCall. Share the post and encourage your friends to watch and "Like!" Each like counts as 1 vote and each reshare counts as 1 vote.
YouTube:
This is a video contest after all! Invite your friends to watch your video and give it a "Thumbs Up". Each thumbs up will count as one vote.
One critical quality of a Champion is integrity. Any contest participant that posts derogatory imagery or is suspected of boosting votes through any dishonest means will be immediately disqualified.
Judging Phase 2:
Our fan favorite entries will head to the Call of Champions development team where they will be evaluated on:
+ Creativity/Originality – How do you stand out from the crowd?
+ Quality – How polished and well-thought-out was your submission?
+ Passion for Gaming – We want players who don't just play, but have a true passion for gaming. Do you?
+ Community Impression – Last but not least, we'll consider the impression you left on the community during the first judging phase based on number of votes, quality of comments and discussion and overall reception.
The development team will narrow down the pool to six (6) lucky winners, who will each be admitted to the Call of Champions Alpha Test phase, along with two keys to invite two of their friends to join.
Winners:
Winners will be notified via e-mail or messaged on social media channel on or after 5/13/2015 and they will be formally announced to the community on that date.
Good luck to all those who enter! As always, you can join the conversation by visiting our official
Facebook
,
Twitter
, and
YouTube
pages. Be sure to come back to
www.CallofChampions.com
for the latest news and information.
Submission Agreement:
This is the agreement of SpaceTime Studios LLC, a Texas limited liability company located on the Internet at Spacetimestudios.com ("SPACETIME"), and you ("Submitter").
This Submission Agreement (the "Agreement") is made and entered into as of the date of acceptance, as provided below, by Submitter.
The Submitter desires to furnish SPACETIME with one or more in-game screenshots (the "Content") for review and consideration for publication by SPACETIME, on, in, or in connection with SPACETIME's online game now known as "Call of Champions."
It is a condition to SPACETIME's acceptance, consideration, and possible publication of the Content that Submitter agrees to the following terms and conditions:
1. Submitter acknowledges that SPACETIME is engaged in extensive research and development in many areas, including without limitation ongoing development of Call of Champions and other games and communities, and other content for the consumer marketplace. Submitter further acknowledges that in the course of its business SPACETIME receives from others, including other submitters, its own employees and employees of its affiliates, numerous submissions of Content, and that SPACETIME may have developed or may in the future develop materials, or may have received or may in the future receive submissions of materials, similar or identical to those presented to SPACETIME by Submitter. Submitter understands that Submitter will not be entitled to any recognition or other consideration for any submitted materials nor will Submitter be entitled to recognition or consideration because of the use by SPACETIME or any of its affiliates of any such similar or identical material.
2. In the event that SPACETIME determines, in its sole discretion, that Content provided by Submitter may be published or otherwise included in Call of Champions and for related purposes, then Submitter will be deemed to have granted SPACETIME an irrevocable, exclusive, worldwide, royalty free, fully paid, right and license in and to the Content for purposes of use of Content in Call of Champions, other products or services or SPACETIME, and for institutional purposes for and for the benefit of SPACETIME. The license includes all rights under copyright, and the full right to modify, edit, revise, or otherwise alter the Content. Submitter hereby waives all moral rights he or she may have in and to the Content. The license granted hereunder includes, without limitation, the right for SPACETIME to make derivative works based on or incorporating Submitter's Content.
3. When and if SPACETIME utilizes Content, it will endeavor to provide recognition of Submitter on the Call of Champions Internet Site; provided that failure to do so will not be a breach of this Agreement. Consideration of the Content by SPACETIME, and the recognition set forth in this Section, is the sum total of consideration to be provided to Submitter in connection with rights granted herein. SPACETIME will be under no further obligation to enter into a relationship with Submitter; however nothing in this Agreement shall preclude the parties from entering into future negotiations with respect to Content or further services from Submitter. SPACETIME shall have no obligation to return any Content to Submitter.
4. Submitter represents and warrants that (i) all Content was generated by Submitter; ; (ii) Submitter has the exclusive, unconditional right and authority to submit and/or convey to SPACETIME the Content and the rights granted herein, (iii) no use of Content as provided herein by SPACETIME or its designee(s) will infringe upon or violate the rights of any third party; (iv) Submitter has the right and authority to enter into this Agreement with SPACETIME and (v) no outstanding agreements exist, whether written or implied, which are inconsistent with any of the provisions of this Agreement.
5. This Agreement shall be governed by and engineered in accordance with the laws of the State of Texas without giving effect to the conflicts of law principles thereof. Any action arising out of this Agreement will be brought only in the State of Federal courts located in Austin, Texas, and Submitter expressly consents to the exclusive jurisdiction of the foregoing courts. In addition to any recovery, the prevailing party in any action will be entitled to an award of its reasonable attorneys' fees and costs in connection with any action.
6. This Agreement constitutes the entire understanding of the parties. No waiver or modification of any of the terms of this Agreement shall be valid unless in writing and signed by each of the parties hereto.
7. In the event that any provision of this Agreement shall be declared invalid or unenforceable, such invalidity or unenforceability shall not affect the validity or unenforceability of the other provisions of this Agreement, it being hereby agreed that such provisions are severable and that this Agreement shall be engineered in all respects as if such invalid or unenforceable provisions were omitted.
8. It is a material provision of this Agreement that Submitter represents to SPACETIME that he or she is over the age of 18 and fully authorized and capable of entering into this Agreement and being legally bound thereby. But for Submitter making this foregoing representation to SPACETIME, SPACETIME would not enter into the Agreement with Submitter.
ACCEPTED AND AGREED UPON BY SPACETIME.
BY POSTING IN THE THREAD BELOW, SUBMITTER AGREES TO BE FULLY BOUND BY THE FOREGOING TERMS AND CONDITIONS.